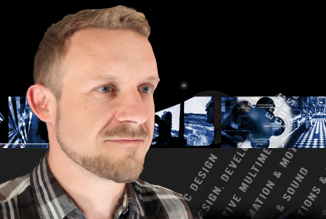 Hi! I'm Ben Neal and I work freelance as Psicon Lab (pronounced "Sy-Kon Lab"). I collaborate with creative people, who want to use technology in some way, to help bring their ideas to life.
As a Creative Technologist I have a wide range of creative and technical skills and specialise in bringing them together to build unique products. As a Digital Producer I plan, manage and deliver complex projects, and provide knowledge and expertise.
I build games, software and immersive experiences often using Unity and utilising Augmented or Virtual Reality, 360 video and volumetric capture (mainly using Depthkit and Kinect cameras). I develop for HTC Vive, Oculus Rift and Oculus Quest VR headsets and have some experience with Motion Capture and skeletal tracking.
I also work with rapid prototyping using electrical sensors and microcontrollers (Arduino, Raspberry Pi etc.) to build gadgets with sensors, buttons and LED lights.
I do a lot of creative coding and am an experienced programmer (using mainly C#, PHP, Javascript and Python). I often work with web, interactive, 3D graphics, audio, video, Android mobile devices, MIDI controllers, and sound-reactive animation.
I work with a lot of arts, music and cultural organisations. I've previously worked with Ikon Gallery, New Art Gallery Walsall, Warwick Arts Centre, mac and the Victoria and Albert Museum as well as festivals such as Sonár (ES), Supersonic, Fierce, AVIT, Random String and Contact Europe (DE).
I am the Digital Producer at BOM (Birmingham Open Media) - a center for Art, Science and Technology - where I support staff, artists, exhibitions and events. I'm also a BOM Fellow and Creative Technologist in Residence with the Institute of Creative Technologies at De Montfort University.
I give talks and presentations which include teaching at De Montfort University, appearances at BCU's Maker Monday events, several appearences on BBC radio and TV, and often speak about creative and emerging technologies, my work and lead workshops.
Previous projects include work for artist Rachel Maclean, the Open Data Institute, Swoomptheeng, Kerryn Wise and Juneau Projects; several presentation tools for Loughborough University; and online educational content for Oxford University Press.
I love working with artists and creative minds to make incredible, unique products, and tech-enabled projects a reality.